This is a special pipe that is mostly used in Arabic countries.

Medwakh has a very small bowl as they smoke a special tobacco with it, called "Dokha" (not to be confused with any illegal stuff).

Usually it's made of several exotic woods, other than briar. This one is of briar and carries my "Aspida" system. It can accept a 9mm filter as well.


Aluminum insert bowl.



Aspida dressed up with silver 925.



Acrylic Mouthpiece.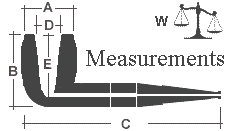 Item # 1405

A
B
C
D
E
W

24 mm
21 mm
170 mm
10 mm
13 mm
26 gr